Beautiful beyond imagination – Georgia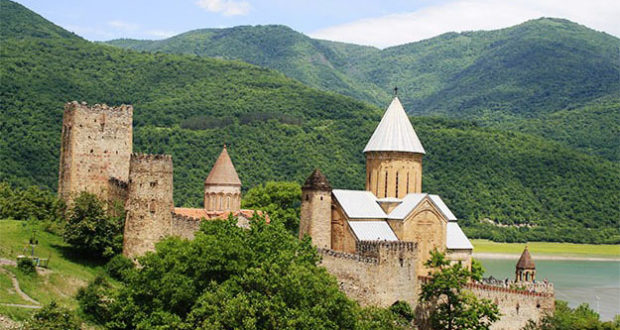 First, a little history.
Georgia
is one of the oldest wine producing countries (800 BC), is located at the intersection of West Asia and East Europe and this stretch of land between the Black Sea and Caspian Sea is one of the most beautiful places in the world. It is also known for its beautiful women and fruits!
Georgians
are NOT Russians or Turks, they are a unique ethnic group, holding strong against centuries of invasions by Mongols, Russians, Ottoman, Byzantine… They are a majority Christian country (Christianity came here in the first century). Georgia was the second nation to adopt Christianity, with the evangelism of Saint Nino of Capadoccia.
Back to being a traveler in this beautiful country…
GEORGIAN MILITARY HIGHWAY
Running from the capital Tibilisi to Vladikavkaz (in Russia) through some incredibly spectacular scenery and high mountain passes, this beautiful 212 km stretch also has some must see sights along the route. Jvari Pass (Cross Pass) is the highest point on this road.
Highlights:
Whether you are self-driving or on a bus, these are a few highlights along the way you should not miss.
Jvari Monastery
: A UNESCO World Heritage Site near Mtshketa, this Georgian Orthodox monastery stands on a rocky mountaintop overlooking the confluence of two rivers – Mtkvari and Aragvi and the town of Mtskheta itself. The views are mind blowing. However, be careful when you stand on the rocky edge for that perfect shot – there are no protective railings in many places and the winds are fierce. Do, however, drink a cup of tea from a "car coffee shop" run by a smiling Pakistani man.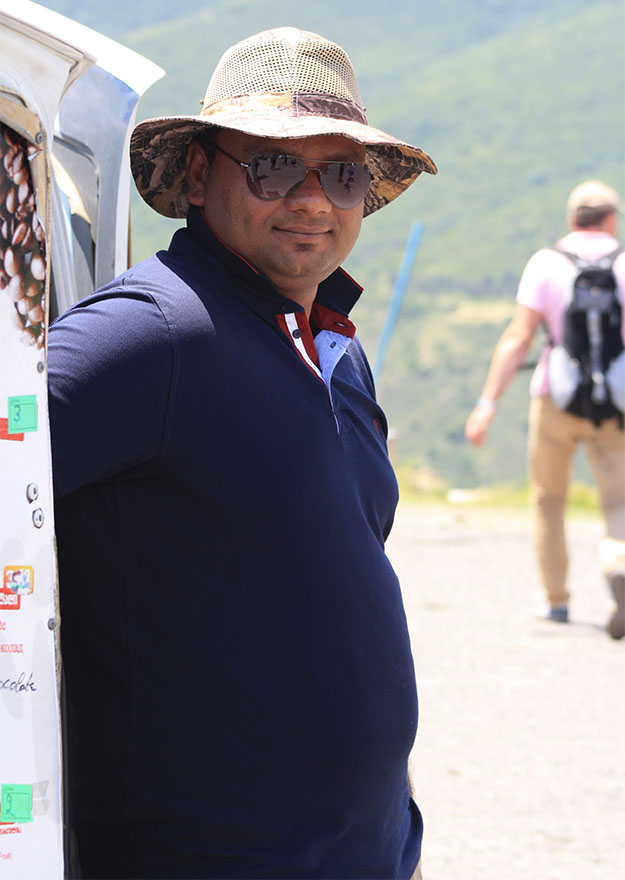 The Pakistani tea seller at Jvari Monastery
Confluence of Black and White River Aragvi:
From a spot on the road you can see the two rivers – the black and white Aragvi meet and flow a short distance as two distinctly coloured rivers!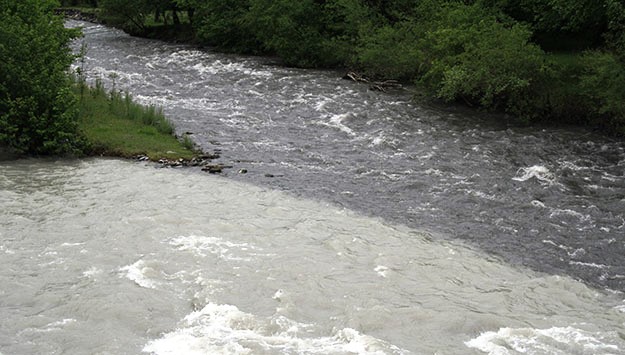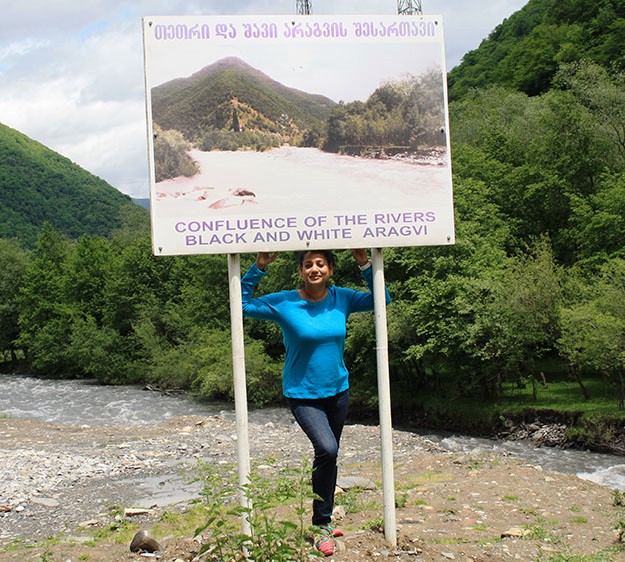 Zhinvali Reservoir:
A hydroelectric dam, fed by River Aragvi is a definite "stop" on this highway. The blue waters surrounded by vibrant green mountains is a photographers delight. If you have the desire to eat fresh fish, head out to the nearest village with a restaurant and ask for trout.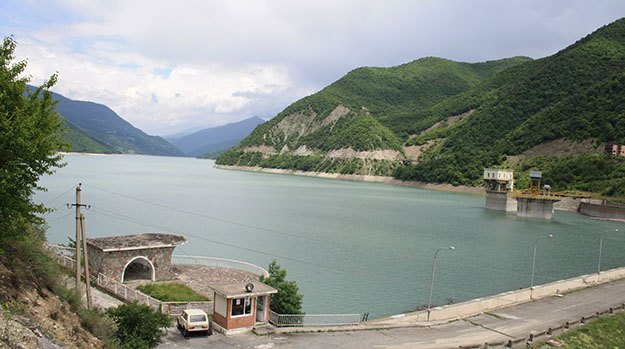 Ananuri:
A beautiful castle on the banks of Aragvi River. Stop here for a while and walk back to the bridge for the best views of this old castle. There is a restaurant by the same name just before you reach the castle itself. The views from the terrace are fantastic, so its a good idea to stop by for a meal of trout freshly procured from the waters below!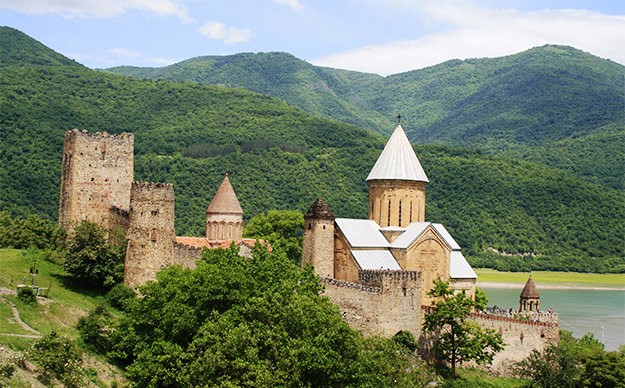 Gudauri:
Georgia's mountain sport destination with ski slopes (skiing season starts December and ends in April). If you are a adrenaline junkie, time your visit to coincide with the ski season.Paragliding however can be done on any day when the weather is good. Situated at an altitude of 2200m at Cross Pass, Gudauri is a beautiful mountain town.Be warned that if you intend to stay here in the low season, you might end up being the only one at the hotel! Most hotels remain closed in the non-skiing season.

5. Friendship Monument:
As you drive past Gudauri towards Kazbegi, you see this colourful monument covered in murals. This monument was built in 1983 as a sign of continued friendship between Russia and Georgia. This is a tourist haven and it is not uncommon to find visitors staring long and hard at the snow-covered mountains or into the blue lake in the valley below.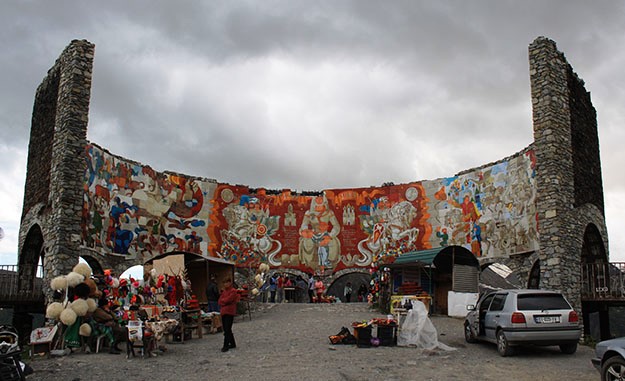 KAZBEGI (Stepantsminda)
The last town on the Georgian Military Highway before the road enters Russian territory. If you have the time, make this your stop for a day. The views from this tiny frontier town are fantastic, food is amazing and there is plenty for the traveler to do.
\
TO KNOW WHAT YOU CAN DO IN KAZBEGI, CHECK OUT THE NEXT POST!
If you looking for a package tour to Georgia, I totally recommend Holiday Factory.